In the end, history came quietly to Wimbledon 2017. It was 3.51pm at the end of a men's final where injury's fates blunted Marin Cilic's weapons; and with a second serve ace, Roger Federer wrote his moniker once again into the record books here.
You'll find the name monopolising numerous volumes already, of course. But this was the achievement he wanted above all others – an eighth Wimbledon title, more than any other man in the 131 editions of this greatest of all Championships.
When that moment of history came, Federer could find not a single sound. He raised his arms in loving salute to his wife Mirka, father Robbie and mother Lynette. Just fleetingly, his face crumpled as they and the rest of the Centre Court crowd rose to him. His eighth Wimbledon crown 14 years after his first, his 19th Grand Slam title, at 35 years 342 days the oldest Slam champion since the game turned professional 49 years ago, the first man in 41 years to win Wimbledon without the loss of a set – we can all but recite the statistical roll of honour.
"Winning eight here is very special," he said afterwards. "Wimbledon was and will always be my favourite tournament. My heroes walked the Grounds and the courts here. Because of them, I became a better player, too.
"I was just so happy that I was able to win here again because it's been a long road – tough at times, but that's how it's supposed to be. So to be Wimbledon champion for an entire year now is something I can't wait to savour and just enjoy. It was super special. To be part of Wimbledon history is truly amazing."
Memories are indeed made of this – the sight of Federer's younger twins Leo and Lenny, perched with feet drumming the roof of the commentary boxes in front of the players' box, gazing at their waving father with the piercing steadfastness that only three-year-olds can muster; and their sibling Charlene (or was it Myla? Identical twins can be tricky) clambering across the same commentary box roof in miniature replica of Pat Cash 30 years ago, to sit beside her baby brothers. Do Charlene and Myla remember the last time they saw their father raise the golden trophy here, on a rainy afternoon in 2012? Perhaps. But they turn eight next week, so they have more sophisticated stuff to ponder than dad's day at work.
I was just really a normal guy growing up in Basel, hoping to make a career on the tennis tour
– Roger Federer
The rest of us remember that day, though, as we will remember this one. Hundreds of millions of us crowded into the close, humid air of the Centre Court – in the stands, on the Hill, via analogue airwaves, by satellite, by digital media… We stood witness, for history was here.
"Winning eight is not something you can ever aim for," mused Federer. "I was not that kid. I was just really a normal guy growing up in Basel, hoping to make a career on the tennis tour.
"You would have laughed if I told you I was going to win two slams this year. I also didn't believe that I was going to win two this year. I did ask everybody on my team sincerely if they thought I could win majors again. It was important that my team believed it. It wasn't just me trying to carry the team; I need the team to carry me most of the time. When you're doubting yourself, they reassure you. If you're feeling too good, they make sure you come back to planet earth and put you in your place. The answer from them was always the same: if you're 100% healthy, you're well-prepared, and you're eager to play, anything's possible."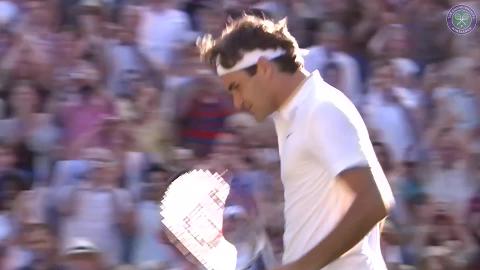 It cheapens other wondrous chapters in the annals of tennis to declare this final one of the great contests, but its story was revealing of Federer nonetheless. This most graceful of competitors is ruthless to his very bone, and for the evidence we had only to watch him at the changeover when he was a set and 3-0 up. Yards to his left, Cilic sat surrounded by a doctor, a physio, the tournament supervisor and the referee, actively sobbing as the hopelessness of his injury engulfed him. As the drama unfolded, Federer was at his most elaborately unruffled, strolling past his opponent to the service line without a glance. It wasn't merely his job to shut out all extraneous factors; it was his instinct, his vocation. And for the 102nd time on the Wimbledon greensward, he fulfilled that calling.
Think of it as a boxing match. No matter that the Croat was bruised and bleeding, Federer kept right on punching him until he couldn't get up off the canvas any more. Tennis is prettier than boxing, but underneath that lovely façade, it's a prizefight just the same. Federer's appetite for the prize has never wavered, and it didn't now.
"I still don't know what the problem was because he was serving big," mused Federer. "If I saw him limping around, I would start to think, 'okay, maybe I'll throw in a drop shot to really check him out' – because you need to hurt him, where it hurts already."
The elegant assassin isn't done yet. He will be back in 2018. He wants more. But history is already here, and its name is Roger Federer.
Follow the latest news and scores from Wimbledon 2017 on Wimbledon.com or Apple TV, or download the official IOS or Android apps for smartphone and tablet.